How We Doubled a Finance Broker's Sales
Zero to double: Why we always succeed in increasing our client sales
Warm audiences mean better quality leads and better revenue.
Our strategy?
Thinking outside the box with proper funneling! 
If the results aren't there and your current strategy isn't working, it's time to look for new angles you haven't used before. 
DimNiko agency knows when they cut ties with a strategy and try something new. We don't wait around hoping it'll work out. We pivot fast and we don't give up – it's not part of our dictionary. 
A few months ago, we took on a unique client – a finance broker who has more than 20 competitor lenders. 
They were spending around $1000 a day without returns. That's taking a big risk to only lose more capital.
At the start of our partnership, we were able to increase their sales by 200% in just a couple of months.
We made it look easy. 
But the truth is we worked hard to understand our client's customers. 
Before our client started working with us, they only focused on two types of audiences: bad creditors and pensioners. Both are cold audiences.
When we took over, we analyzed their audiences and decided to try something new because their current targeting didn't seem like the best match for the client. 
We expanded the Facebook Ad reach targeting more audiences that converted into sales. Scaling the budget, doubling then tripling the returns was our main goal.
Curious about the solution we implemented to achieve our goals?
Aside from building a funnel with cold, warm, and hot traffic, we also broadened our leads by extending our testing reach to people of varying and similar interests.
This proved to be fruitful especially when paired with user-generated content. An approach that has not been tested by our client before.
Rather than focusing on what the company can give our customers, we focused on what our client has already done for our customers and made these customers speak for the client.
In today's day and age, nothing is more trustworthy than customer satisfaction, honest reviews, and word-of-mouth recommendations. 
These solutions were the start of jaw-dropping results. 
Our biggest achievement?
Finally being able to extract what types of customers have the highest conversions at a very low cost per lead (CPL). We found out that more people are interested in getting a car loan for a specific car type, which made it clear why the client was not getting the results they wanted right from the start.
From zero conversions, we were able to gradually increase it to 17  and then an even higher number as we continued with our campaign. 
We were able to boost the conversions to heights up to 200% of their usual sales while lowering the cost per lead (CPL) to a floor rate.

We have been able to scale this retargeting campaign, increasing the number of results and maintaining the CPLs under our KPIs: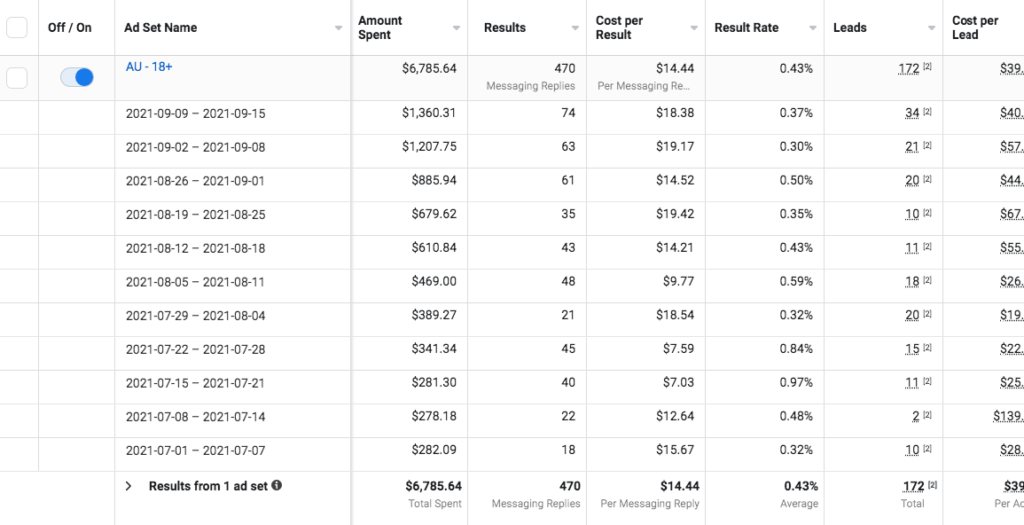 How do we keep it steady?
After finding stability on the quality leads and conversions, we decided to maintain the budget to avoid unnecessary costs for the client. 
At this point, we also need to think about wise spending and keeping the costs at a minimum while keeping the returns at the maximum.
All these were done by our team without going over our client's CPL budget.
This already means a steady and more reliable inflow of income for Responsive Lending. And if they decide to scale even more with our help, more sales will rush in.
We see things like this all the time. Clients will come to us targeting the wrong audience, or completely missing the audience they should be targeting. 
With our world-class team of marketers, we're able to analyze brands and find the audiences they truly need to be targeting. 
If your ads aren't converting, it might be time to look at your audiences and how you're speaking to them. 
Or, if you're like our client and want someone to help you with this, we're happy to help you out. 
And, maybe our next client case study will be about your brand. 
If you're looking for a partner dedicated to your brand's growth. 
CASE StuDY How We Doubled a Finance Broker's Sales $1900 Daily Ad Spend 200% INCrease IN Daily SALES BOOK A STRATEGY CALL Zero to double:
Read More »
eCommerce Titans by Dim Niko is the industry-leading podcast that brings together the cutting edge growth strategy, tips, and approaches of 8-9 figure eCommerce Entrepreneurs, Founders, CMOs and CEOs.
A Facebook community for top-level marketers to discuss and share hyper-advanced online marketing strategies. Network and learn from the best in the industry.
The Daily Scale newsletter is delivered directly to your inbox discussing top insights and strategies our agency uses every single day on our 7 figure DTC brands. 
ARE YOU READY TO SCALE YOUR ECOMMERCE BRAND?
Want In On The Juiciest Brand Building Strategies? Subscribe to Our Daily Newsletter
Pretoria:
60 Glenwood Road
The Aviary, First Floor, Office 2
Glenwood
Gauteng - South Africa
0081
Hong Kong:
Unit 1102
11/F 29 Austin Rd
Tsim Sha Thui KL
Hong Kong